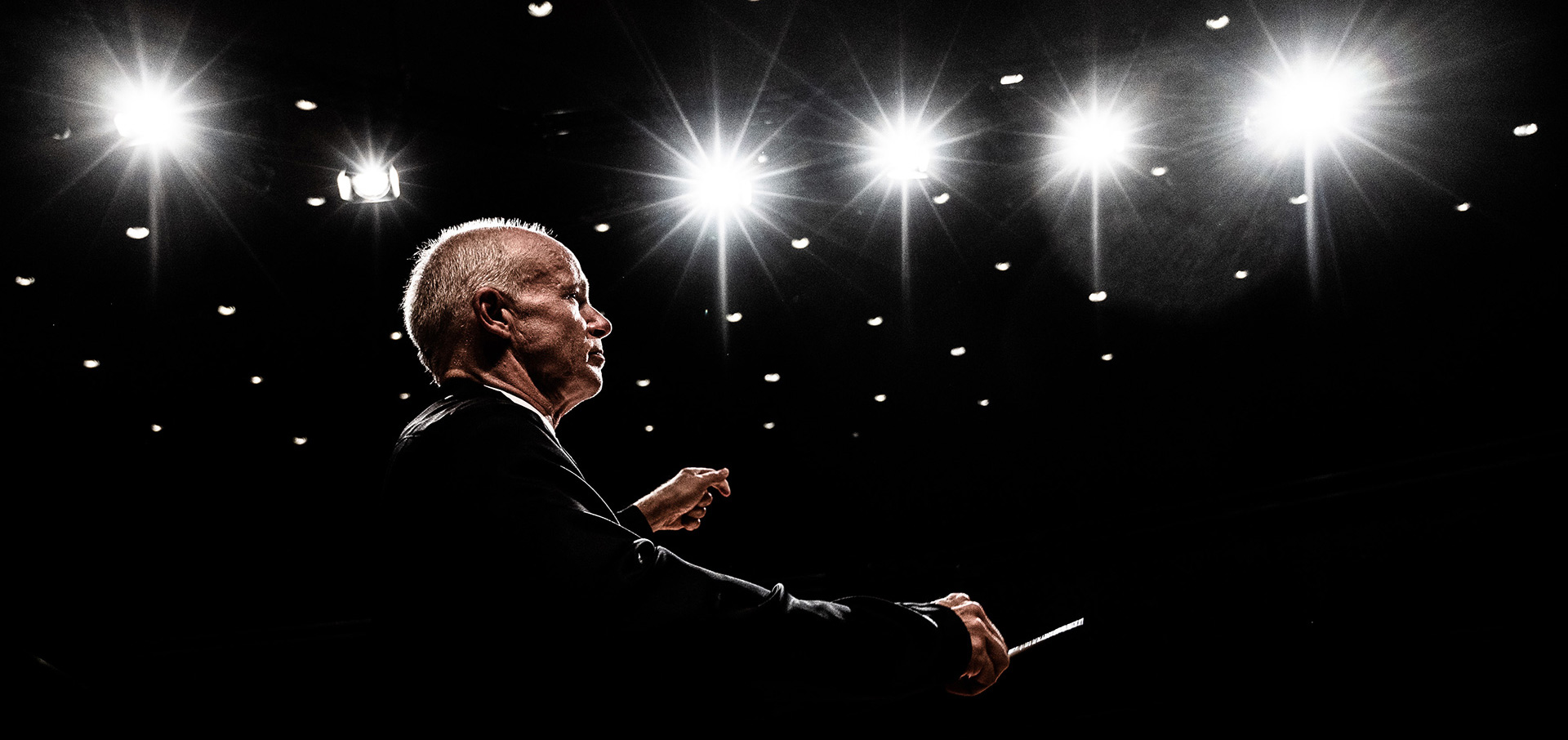 Seminar on the training of managerial staff: "Leadership and the art of orchestra conducting"
Introduction
Conducting an orchestra provides an analogy for the theme of leadership like no other activity. Whereas, for a large part of the last century, leading an orchestra was still seen as a way for a person with innate leadership qualities to exercise almost absolute power, today the task of the conductor is rather to shape an ensemble of highly specialised individualists into a team through a process of two-way communication in order to deliver the highest level of performance with precision and yet also creativity when it comes to giving a concert.
In the seminar "Leadership and the art of orchestra conducting", the principles of successful leadership communication are addressed, looking in particular at systemic leadership and non-verbal means of communication, and these principles are then applied in working together with the orchestra. The special aspect here is the immediate feedback which the seminar participants receive in response to their individual leadership style when they are working with the orchestra.
"Systemic leadership means leading in an individual way, having your own flexible style and being able to adapt this to the circumstances, the organisation and the people you are leading, instead of simply working in a schematic fashion with standardised tools" (Daniel Pinnow). As well as rational and observable aspects, systemic leadership also includes the affective hidden aspects such as the distribution of power, group dynamics and value systems. Furthermore, there is a deliberate focus on a variable which remains a blind spot in the eye of the observer with many other approaches – the manager themselves.
Creativity, close contact with the customer and a fast reaction time are some of the outstanding virtues of successful companies. This was established in a survey of over 1,500 managers from 60 countries and 33 industries. According to Pinnow, when considering which management skills are the most important, creativity is the most important resource by a long way. Experimentation, fast learning and a focus on innovation – this is how creativity becomes tangible and can be experienced in a fascinating way in the collaboration with the Stuttgart Chamber Orchestra.
Learning goals
Becoming aware, observation, being in control of your own leadership style. "A look says more than a thousand words" – acquiring a basic understanding of non-verbal communication according to Allhoff as an important factor in the communication skills of a manager, and its application in practice in working with the Stuttgart Chamber Orchestra. A theoretical basic understanding of the systemic leadership theory according to Pinnow and its link to the leadership scenario when conducting an orchestra. Actual experience of the impact of the various different models of leadership (from "Great Man theory" to systemic leadership) on the performance and reaction of the orchestra.
Seminar schedule
The half-day seminar runs from 1 to 7 pm.
Introduction to systemic leadership theory and non-verbal communication with regard to practical application with the orchestra
Basics of conducting
Working out selected works (with piano)
Break
Conducting part 1 (with orchestra), simultaneous coaching
Break
Conducting part 2 (with orchestra), simultaneous coaching
Reflection and feedback
Feedback from previous course participants
"The most impressive and intensive seminar I have experienced in 20 years. Two excellent trainers who gave the impression that they had been bringing leaders together with an orchestra all their lives. Utmost respect!"
"Terrific seminar, great opportunity and chance to experiment in real time with leadership through non-verbal communication."
"Overall very valuable self-awareness and feedback of my leadership behavior."
"One of the best trainings ever I had. Very inspiring and impressive."
"Impressive experience conducting an orchestra by myself."
Further information and contact
The seminar can be held in German or English in Stuttgart or at another location. No previous musical knowledge is required.
Stuttgarter Kammerorchester
Phone: + 49 711 619 21 21
office@sko-stuttgart.com
Markus Korselt has been Managing Director of the Stuttgart Chamber Orchestra since 2017, after serving as CEO of the renowned Innsbruck Master Concerts and the Innsbruck Festival, the leading festival for early music, and thus responsible for the orchestra's economic and artistic development. Since the beginning of his tenure, the orchestra has been honored and supported by the German Ministry of Culture as a member of the "Excellent Orchestra Landscape Germany." In 2018, he will lead the orchestra on concert tours to Japan, India, China and Nepal, among other places, as well as to the Elbphilharmonie in Hamburg. Under his leadership, numerous new concert formats have been developed, the number of concerts has doubled, and new records have been set in terms of revenue and profit. He is also active as a conductor, particularly in China, and played as a cello substitute with the Vienna Philharmonic Orchestra during his studies.
Johannes Klumpp is one of the most exciting and successful conductors of his generation and has worked with the Stuttgart Chamber Orchestra for many years. Born in Stuttgart, he won numerous prizes early on, including the Besançon Conducting Competition and the German Conducting Competition. Meanwhile, a busy concert schedule takes Johannes Klumpp to renowned orchestras, including the Stuttgart Chamber Orchestra, Konzerthausorchester Berlin, Hessisches Staatsorchester, MDR Sinfonieorchester Leipzig, Dresdner Philharmoniker, Staatsorchester Stuttgart, Russian Philharmonic Orchestra, and Kammerakademie Potsdam. Since the season 2013/2014 Johannes Klumpp is Chief Conductor and Artistic Director of the Folkwang Chamber Orchestra Essen.